Home
❭
News
❭ Associated Builders & Contractors of Ohio Valley PAC endorses Kyle Koehler for Ohio House Seat
Associated Builders & Contractors of Ohio Valley PAC endorses Kyle Koehler for Ohio House Seat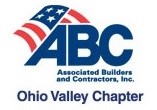 Ohio Valley Associated Builders and Contractors PAC has chosen to endorse Kyle Koehler for State Representative on the May 6th Primary.
Director of Government Affairs, Bryan Williams, wrote "Ohio Valley ABC appreciates the support for the merit shop principles you expressed in our candidate questionnaire. What's more, we know you live these principles at KK Tool everyday as you, your family and team of employees successfully meet customer expectations in a competitive business market."
"I appreciate that fact that Ohio Valley ABC took the time to tour our manufacturing facility and verify who we are and what we stand for" Koehler remarked.
Ohio Valley ABC believes in the merit shop philosophy, the belief that everyone is evaluated, judged, awarded and rewarded according to the "merit" of his/her work(s). It is this belief in quality-based results that governs the organization and members of Associated Builders and Contractors.