NRA Endorses Koehler for General Election in 79th
The National Rifle Association released it's endorsements for the 2014 General Election this week. The NRA - Political Victory Fund (PVF) is the legislative arm of the NRA.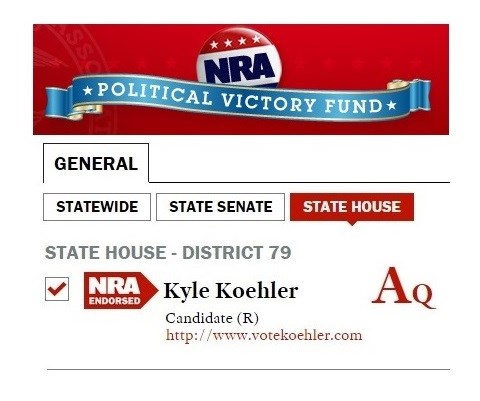 Our Campaign Committee is excited to announce that Kyle Koehler received the endorsement off the NRA over his opponent. Kyle Koehler's "A" rating is based on the survey questions as well as his strong support of the 2nd Amendment.
The NRA Political Victory Fund (NRA-PVF) is NRA's political action committee. The NRA-PVF ranks political candidates - irrespective of party affiliation - based on voting records, public statements and their responses to an NRA-PVF questionnaire. NRA relies on a very simple premise: when provided with the facts, the nation's elected officials will recognize that "gun control" schemes are an infringement on the Second Amendment and a proven failure in fighting crime. The importance of this premise lies in the knowledge that, as one U.S. Congressman put it: "The gun lobby is people."