Home
❭
News
❭ Ohio House Approves Payday Lending Reform Legislation sponsored by Representative Koehler
Ohio House Approves Payday Lending Reform Legislation sponsored by Representative Koehler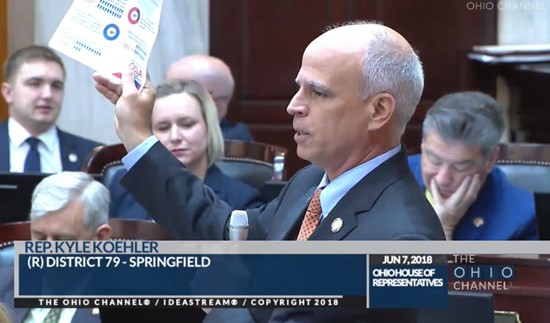 COLUMBUS—The Ohio House of Representatives today passed bipartisan legislation that reforms the state's payday lending industry and is aimed at lowering interest rates on loans and helping borrowers avoid endless debt cycles.

House Bill 123 caps interest rates at 28 percent, consistent with the limit enacted by the legislature and overwhelmingly approved by voters 10 years ago. The legislation allows a monthly fee of five percent of the amount of the loan not exceeding $20, and it limits monthly loan payments to five percent of the borrower's gross monthly income (GMI).

"The passage of H.B. 123 is a testament to this body's dedication to protecting working families. Today, members of the House made a clear statement: we will no longer allow disingenuous lenders to prey on already-struggling individuals who find themselves in need of a loan," said Rep. Kyle Koehler (R-Springfield), who joint-sponsored the legislation with Rep. Michael Ashford (D-Toledo).

The legislation also closes loopholes and clarifies statutes regulating the payday lending industry, including the Short-Term Loan Act, to ensure payday lenders are operating under intended guidelines. Additionally, under the Short-Term Loan Act, H.B. 123 ties duration of the loan to the size of the loan and limits monthly payments to five percent gross or six percent net of a borrower's next paycheck.

After five hearings in the House Government Accountability & Oversight Committee, H.B. 123 passed the House with bipartisan support and now heads to the Ohio Senate for further consideration.