Rep. Koehler Co-Sponsors Address Confidentiality Bill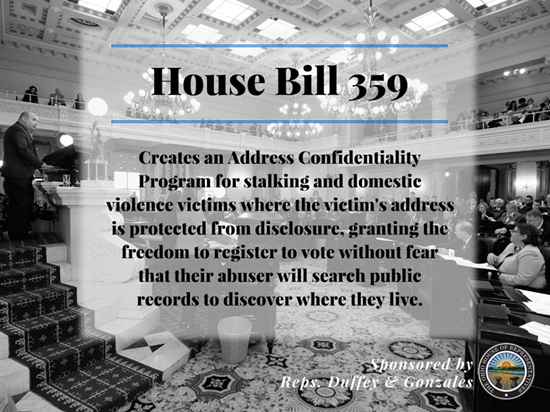 State Rep. Kyle Koehler (R-Springfield) last week announced the passage of House Bill 359, which establishes an Address Confidentiality Program for domestic violence and sexual assault victims in Ohio.
This legislation allows for domestic violence victims, as well as victims of rape, sexual battery, menacing by stalking and human trafficking, to register to vote while keeping their home address confidential. The victims would be assigned an Address Confidentiality Program number that they can use instead of their home address when filling out an election ballot. The Secretary of State's office will administer the program.
"House Bill 359 addresses an issue that while difficult to talk about, restores some of the most fundamental rights lost by victims of domestic violence," Rep. Koehler said. "We often take for granted these rights, but as legislators, we must make sure to protect these individuals."
House Bill 359 passed unanimously and now goes to the Ohio Senate for further consideration. If passed by the Ohio Senate, Ohio will become the 38th state to have an address confidentiality program.