Rep. Kyle Koehler Applauds Local Job Creation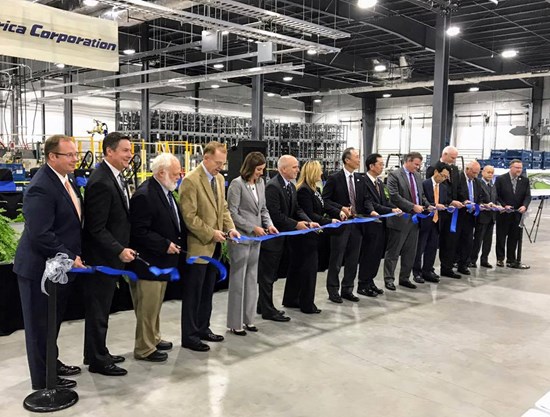 SPRINGFIELD, OH—State Representative Kyle Koehler (R-Springfield) today applauded the facility expansion of Tokyo-headquartered company Topre America Corporation in Clark County. The expansion requires approval from state and local incentives and, if confirmed, will create over 200 local jobs in Springfield as well as add 138,000 square feet to the existing 177,000 square footage under construction. Nearly $75 million will be invested in a new facility.

Rep. Koehler has congratulated local leaders in Greater Springfield on their tireless efforts to continue to make the area hospitable to business development and growth, especially highlighting the work of Horton Hobbs IV, Vice President of Economic Development for the Chamber of Commerce and Mike McDorman, President and CEO. "This Project is bigger than their first two. This is a game changer," said Horton Hobbs IV, Vice President of Economic Development for the Chamber/CIC.

"Topre America has already laid the foundation to be a pillar of our economy in Springfield, and I am thrilled to see their continued contributions to our growth," Koehler said. "The additional jobs and capital Topre plans to bring to our community will invigorate it in ways that extend beyond economics. The expansion demonstrates to the nation that not only is Ohio 'open for business,' but that Springfield is a great place to lay down roots."

In a statement, Topre America Vice President Brad Pepper remarked, "The Springfield community continues to support our growth and has proven to be an ideal location for our company. It's simply a community that wants our investment and works with our leadership to make it happen."

The expansion will create assembly line roles, stamping and light manufacturing positions, and research and development jobs. The average wage is estimated to be $19.50.

Topre America Corporation was founded in Tokyo in 1935 with an expansion to the United States in 2004, and is best known for manufacturing metal press forming technology. With plans for Springfield first publicized in 2017, the company based its newly announced expansion in Clark County on rising production requests and a growing customer base. Topre's newest project is in response to its growing customer base and is contingent upon the approval of state and local incentives.

Springfield was chosen as the expansion site over locations in Alabama, Indiana and Tennessee.